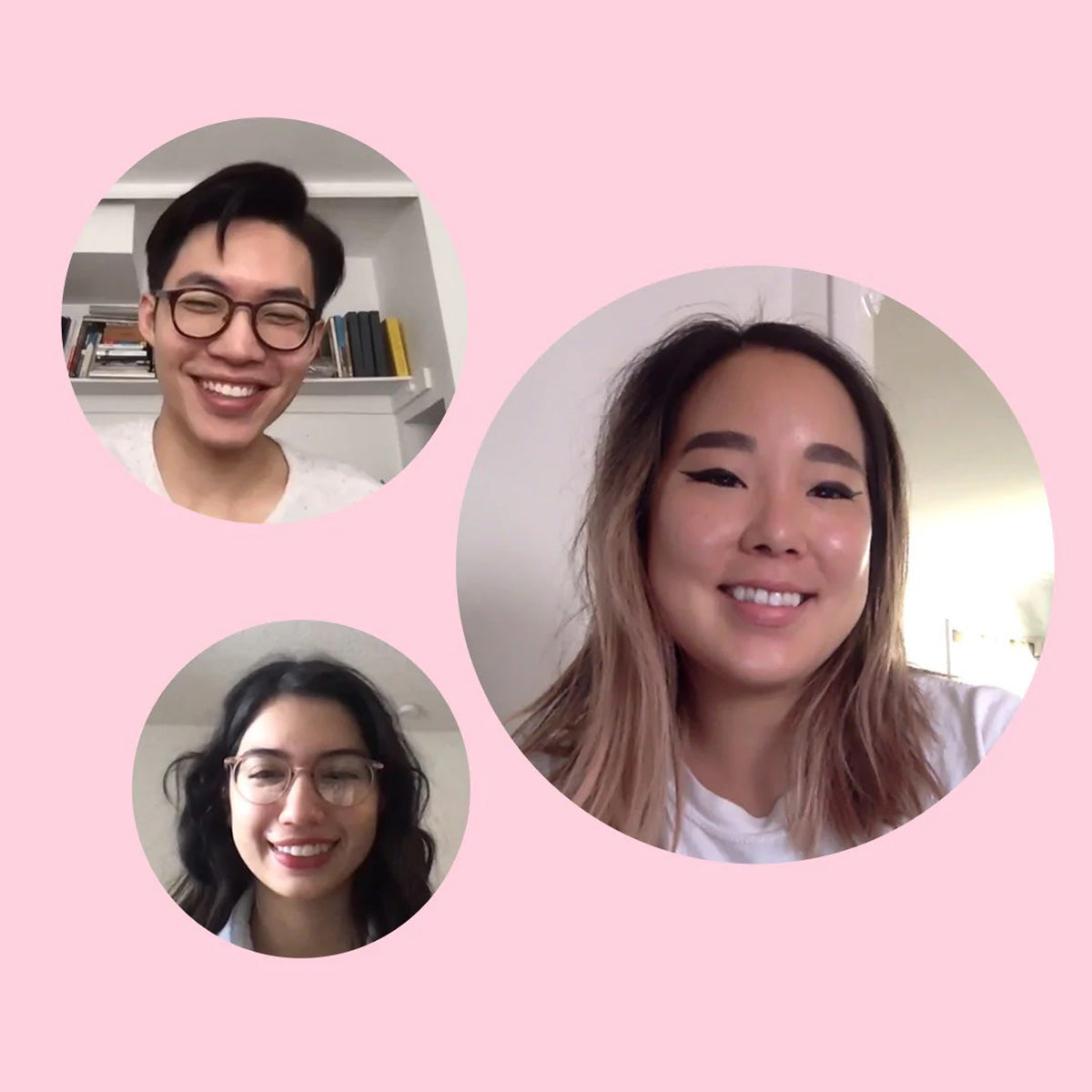 Top 5: Stuck Inside w/Chriselle Lim's Team!
We've been following the exceedingly stylish Chriselle Lim on YouTube and Instagram for what feels like forever. By extension, we love The Chriselle Factor, her editorial platform chronicling Chriselle's daily musings and personal style. In the spirit of quar-routines and making the most of our time indoors, we chat to three of Chriselle's team members about their top 5 products, stay-home rituals, and how their mental health is doing in these weird, weird times. Over to them!
Hi everyone, I'm Jane! I write, produce and create content for the site and social, and have been with the team for almost four years. I'm 34 years old with combination/sensitive skin.
Being stuck (safely) inside has affected me in many ways. I'm very social and a hyper-extrovert by nature so being quarantined at home has caused a few meltdowns if I'm being honest—but I've gotten into a productive groove. The time at home has allowed me to focus on the bigger picture, and shown me how interconnected we are as humans. It's also allowed me to read and write more and cook more laborious recipes like my mom's dumplings and Bon Apetit's lasagna!
My top 5 products 

1. True Botanicals Oil Cleanser
I'm a huge fan of this brand and almost done with this cleanser. Since I have an oily t-zone, I was scared to try oils but now I can't live without them, having realizing how hydrating they can be for sensitive skin.
2. Lesse Bioactive Face Mask
I've been using this once a week. It contains charcoal and aloe vera which detoxes my skin and feels super lightweight. I love putting this mask on as it feels like such a treat!
3. Facial mists by Cosmedix Mystic and True Botanicals
One thing I cannot live without are face mists. I stick them in the fridge during the summer to make them feel extra cool. It's the one thing my fiancé loves to partake in as he hates products (lol). Pro-tip: It's nice to mist then layer your skincare on when you need maximum hydration.
4. Cleaner beauty
As I've been trying to be more conscious of what goes on my face, if I wear makeup, I'll use the Supergoop CC cream or anything Kosas since they're both clean and I don't feel bad about having that on my face all day.
5. ZitSticka KILLA Kit  
I love using these around my chin and cheeks (my problem areas) and leave them on overnight for maximum zit sucking benefits. In my teenage years, I grew up having major acne and the only options available were Persagel and Clean & Clear. I remember going to school with pink and white leftover paste on my face because I didn't do a good job washing it off (I was a tomboy so didn't really know much about beauty and skincare) so I'm so happy to see where the beauty space is now.

Hi, I'm Timmy. I'm in my 30s and I've struggled with temperamental skin throughout adulthood.
Being stuck inside has really helped my mental health, actually. It's forced me to rest, reflect, make art, learn how to cook, and re-prioritize daily habits that are more meaningful to me.
My top 5 products 
1. PURITO Comfy Water Sunblock
The best mineral sunscreen I've tried. Non-irritating, not sticky, no cast, and moisturizing. I use this in the AM after a splash of cold water.
2. Curology
Retin-A Cream. Renews the skin in multiple ways. I like that it's a no nonsense, prescription grade cream that helps with skin cell turnover and prevents acne.I use this as a last step before bed.
3. Maelove Pure Argan Oil
An excellent lightweight moisturizing oil, without the greasiness. I use it after a serum, typically. Or sometimes in place of a moisturizer (I find on occasion, moisturizers can dry out the skin.) It works really well on the lips too.

4. Greek Yogurt
My skin is really sensitive. I use this as a mask sometimes, after cleansing. It tightens, brightens, lightly exfoliates. And you can get it anywhere. Affordable, gentle, and more effective for me personally than other masks I've paid more for.

5. Krave Beauty Matcha Hemp Hydrating Cleanser
Gentle and non-stripping. My main cleanser for the past year. The texture is jelly-like and silky. I like it because it just does one thing and it doesn't appear to irritate my skin.

6. ZitSticka SKIN DISCIPLINE  
This supplement helps with my complexion. I take this right before lunch and i helps with my skin from the inside out—my diet's not balanced so I'm sure this helps internally. Since using it, I've noticed a lot fewer breakouts.


Monika Gobaira, Editor & YouTube Creator
Being stuck inside has definitely affected my mental health. Worrying about my loved ones, not being able to see them, and the uncertainty of the state of the world hasn't been easy to deal with. I haven't been wearing makeup at all, but due to all the stress I have been breaking out more than usual, and that has also been bringing me down. I've had to change up my skincare routine during this time in order to adapt to these changes...
My top 5 products 

1. Cerave Hydrating Facial Cleanser
I like it because it's super gentle on my sensitive skin, and makes my skin feel moisturized after I use it. I use it in the morning and at night.

2. Tarte C-Brightening Eye Treatment
I use this every night and morning to help brighten my under-eye circles.

3. Cerave Skin Renewing Night Cream
I use it every night to give me some moisture and help restore my skin barrier while I sleep.
4. ZitSticka KILLA Kit
I've been breaking out due to stress during this quarantine and this has helped me sooo much! I put one on when I see a pimple and by the next day they reduce their appearance so much.

5. ZitSticka SKIN DISCIPLINE
I've been taking these supplements and while it hasn't been a whole month yet, I can see my skin is looking a lot brighter. I'm very excited to see how it keeps improving!
I've been trying to listen to my skin and instead of putting on so many products at once, I'm trying to keep it simple so that my skin doesn't freak out even more. Even if I'm stuck inside and have no control of what's happening outside, I do have a say in my own self-care and that includes taking care of my skin.


Want more quar-routine Top 5s? Right this way!