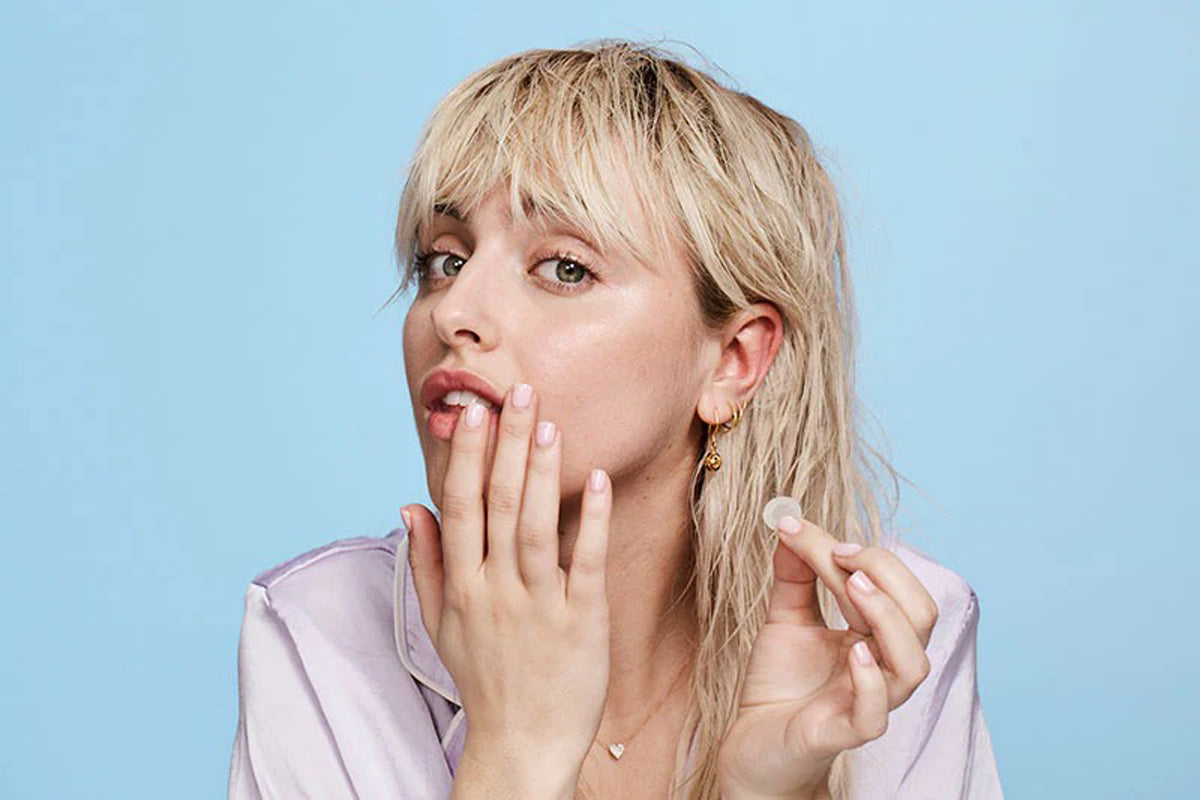 Your DIY Post-Fourth of July Skin Revival
Just ask anyone: The cornerstones of a successful July Fourth weekend are inordinate amounts of wine, cheese and sleep deprivation. Sheepish, yes. Fun, also yes. 
Some gorgeous outcomes include but are not limited to: Dehydrated, parched, lifeless skin; deep, painful zits that percolate deep down, threatening to break the surface (you've heard of ZitSticka, no?). But no—this isn't a post-party pity party. We're here to talk solutions. Behold my greatest party trick of all: a step-by-step guide to restoring post-party szn skin to its former glory…  
Oil spill 
If you're into doing nice things for your future self, remove your makeup when you get home, and then pop on some Sunday Riley Luna Sleeping Oil. With skin-renewing retinol and redness-reducing blue tansy and chamomile, this is the most precious gift you can give your next-day self. 

Hell yes, h20 
This one is so obvious I feel like I'm wasting precious finger energy typing it. But people still don't adhere to it. Pls, whatever you do, drink any and all water in your path (start by drinking a few cups of water when you get home—extra points for an electrolyte thrown in—and then 10 glasses every single day for the rest of your life should do the trick). 

Eat your vegetables
Now that you've re-toxed your body, it's time for the ol' detox. Pump your body full of potassium-rich foods (like bananas and avocados), protein (eggs, salmon, quinoa, nuts, legumes and meat), hydrating foods (cucumbers, watermelon, cantaloupe, tomatoes, celery, and bell peppers), and anything with B-vitamins. And for the love of all things holy, step away from that ~hair of the dog~ and that XL cup of coffee—you've dehydrated your skin enough already. 

Mask your pain away 
When it comes to hangover masking, I know my sheet. I can recall a lot of great hangover moments via the sheet mask I used to bring my poor, decrepit skin back to life. Go-To Transforming skin mask? Crying softly into a green juice the morning after my friend's wedding. Dr Jart Rubber Mask Hydration Lover? Melting into the couch after my Dad's 60th birthday bash. SK II Facial Treatment Mask? That random Wednesday morning after that random Tuesday night when I met my friend for 'one drink'. 

Your skin is sending out little dehydrated SOS's and will therefore love you 5eva if you treat it to a sheet-y treat. 

Pore, pore you
Pores feeling a wee bit enlarged after your Fourth of July celebrations? Give them a lil' clean with Kiehl's Rare Earth Deep Pore Daily Cleanser, followed by a lil' scrub with Grown Alchemist's Enzyme Facial Exfoliant, and finally, a lil' pore-specific GlamGlow SUPERMUD Clearing Treatment. Et Voila! Now the only evidence that you dabbled in last night's party are the Instagram stories of you belting out Rihanna's 'Umbrella' at karaoke that you're now begging your friend to delete.
Now that you've taken all of that in, wanna read about 'skin fasting'?