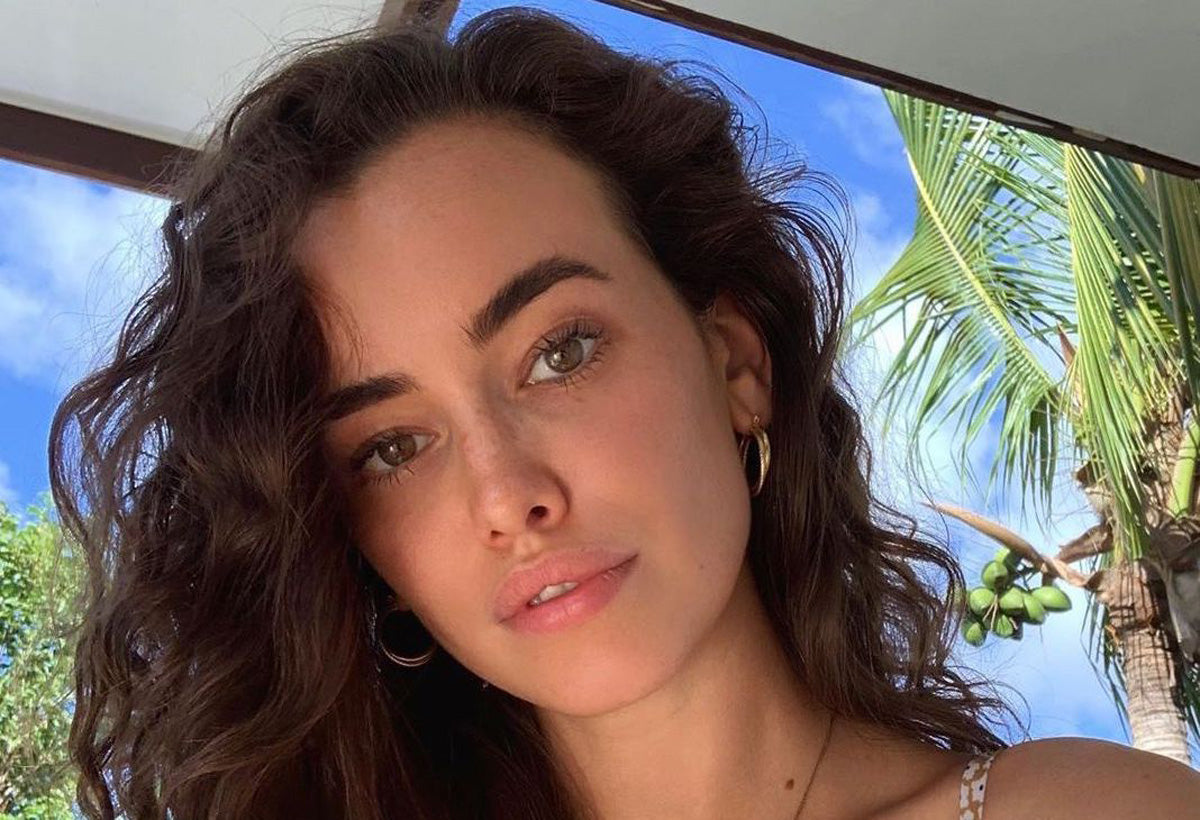 FaceTime: (Very Relatable) Playboy Model, Sarah Stephens
Welcome to FaceTime, a segment in which we interrogate the beauty whims, zit-melting strategies and self-care views of cool girls around the world. Here, Playboy covergirl Sarah Stephens talks karaoke domination, her exfoliation fixation and how to care for her "think-alabaster-but-whiter-than-that" skin. 
Sarah! Run us through your day-to-day. Beauty stuff and non-beauty stuff. 
Most days I'm shooting for much of the day, or running between castings. I have a pretty simple skincare routine. I use a hydrating serum and this nourishing face oil in the morning, or Embryolisse cream. At night I use retinol and moisturize. I cleanse my skin with Cetaphil.

As for free time, I work out a lot - mostly run, boxing, and I have also recently taken up roller skating, because there is a roller disco in Brooklyn. I bought all the protective gear (knee pads, wrist guards, elbow guards) and a matching scrunchie, in a color that you would call "very" pink. I spend a lot of the year planning my next Halloween costume. Last year was Denise from Saturday Night Live. I am also very into Taco Tuesday, especially at my local spot, which has karaoke the same night. I love karaoke.

What are your go-to hits?
Cheryl Crow, 'If It Makes You Happy' would definitely be number one. I've also got my interpretive dance moves down-pat for 'Torn' by Natalie Umbruglia [mimes tearing a sheet of A4 paper down the middle]. They're very full-body experiences, my karaoke performances.

So talk to us about your skin, what's it like?

My skin is very pale. Think like alabaster, marble. And then think even whiter than that. 10-15 minutes under the Australian sun I mean, the horror, I cannot even describe it. When I was young I had hopes for my freckles all joining together to form one giant tan, but eventually discovered that this is actually not how it works (rude). You can catch me in the shade at basically all times. I wearing SPF even indoors because I'm pretty sure that I get burnt just from sitting too close to the window.

My skin is also very sensitive, probably due to excessive exfoliation. Most clients want me to be tanned, so I'm applying St. Tropez (the absolute best) tan, then using Bondi Sands tan eraser followed by a vigorous scrub at least 3-4 times per week. My boyfriend often points out how soft my skin is, which is probably because we're like four layers of skin down at that point.  

Lol. So how do you deal with said sensitivity?
I am very much of the 'less is more' approach so I don't mess everything up. I use gentle products such as Cetaphil, as well as Biafine for dermatitis and dry skin in general.

And what about blemishes?
Again, less is more. I've taken prescription meds for acne, so it's usually pretty well behaved but if I do break out I use Differin gel.

Is there anything you do or don't do that makes your skin break out or glow?Look, I try to avoid picking, but to be honest that's usually not the case, and mostly I just go to town on them. Honestly I love popping pimples. Mine or anyone else's. Do as I say, not as I do.
Finally, your dad is a dermatologist. Has he passed on any tips or tricks?
Actually most of what I know about skin I learnt from him, the less is more approach, and to not pick at your face. He's the one who got me onto Accutane, a pretty light course, but it made a HUGE difference and I rarely break out because of it. He also taught me to protect my skin from sun-damage; I was repping rashies and hats from birth. He also has BBL (Broadband Light Therapy) at his clinic, I want to learn how to use the machine because it's honestly the best, especially for people with freckles or sun spots.
Like the whole truth and nothing but the truth? Here are 7 skincare myths, debunked.