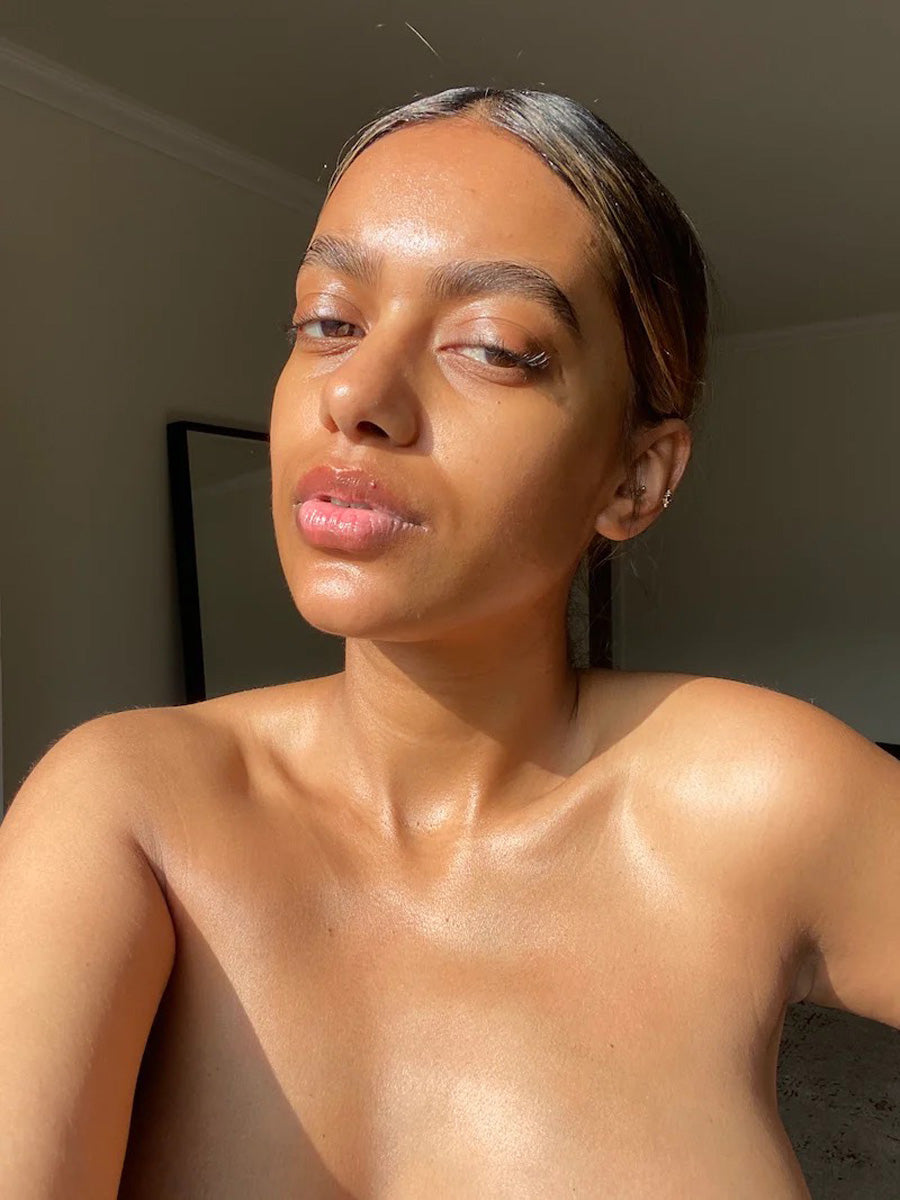 Back-ne, Butt-ne, Chest-ne...How Do We Banish Thee?
It may not feel like it atm, but we've got some hot days ahead. Heat equals sweat, sweat equals clogged pores and those materialize in, yep… body acne. Hot tip: ZitSticka came out for a comprehensive body acne duo: BODY DOUBLE. This tantalizing duo includes SILKSHAKE, a microbiome enhancing body wash, and FIZZ FOUNTAIN, an acid-rich exfoliating body scrub. More on that in later in the article. 
Join us below as we traverse the entire human body, singling out zit-prone areas as we go and conspiring the best ways to straight up end their life. 
Butt
All those in possession of a spotty derrière will already know that warmer weather is synonymous 'butt-ne'. What you might not know is that your butt pimples aren't the same as the ones on your face. No, these little suckers are the result of folliculitis—a fun-sounding term for the inflammation of the hair follicles, commonly caused by yeast or fungus. They might look practically identical, but there are a few differences. As dermatologist Morgan Rabach, MD, explains it, "Acne is defined by having comedones, which are blackheads and whiteheads. On the buttocks, you see folliculitis, which has a hair in the center of a red pimple, and the white material associated with the bump is often dead skin and white blood cells." (In saying that, some people do get actual zits down south which is why you should always go to a dermatologist to find out what's going on.)
P.S. If you want to curb your butt-ne, back-ne, and chest-ne while saving $$$, bundle up and save with our BODY DOUBLE bundle:
Folliculitis is caused by friction between clothing and the skin, combined with sweating, which disrupts the outer skin layer. Wet clothes—think your bathing suit or sweaty post-workout leggings—being the main culprits. 
As always, prevention is where it's at. Treat your tush to cotton underwear, which wicks away moisture better than its nylon and lace counterparts do. Ditto your workout clothes. Look for sweat-wicking, breathable exercise gear and always, always take them off once you get home (same rule applies to swimwear). Extra points for jumping in the shower straight after the gym. Avoid wearing tight clothing for large pockets of time. To treat, cleanse with an acne wash that contains salicylic acid.


Neck
Unlike your bumpy butt friends, neck zits and face zits are cut from the same (irritating) cloth. As explained by Heidi Waldorf, MD, director of laser and cosmetic dermatology at Mount Sinai Medical Center in New York City, "In the sebaceous gland, cells get stickier and don't turn over correctly, and oil glands make oil that is thicker and bacteria proliferate." In other words, clogged pores lead to pimples, even on the neck. Hormonal zits tend to manifest themselves in the neck area, too. 
Any zit-banishing routine that you utilize on your face should be extended to the neck area. And yes, that most certainly does include your KILLA patch. There's absolutely no reason why the tiny self-dissolving micro darts living inside the patch shouldn't be deployed against your neck breakouts as well. With hyaluronic acid, salicylic acid and niacinamide all coming together in a beautiful display of zit-slaying unity, your neck pimples don't stand a chance. 
Don't forget to wash your neck after exercising and before bed. Also, wash your clothes regularly. Because the neck is frequently in contact with clothing, that shirt that you decided could skip a laundry day could be the culprit of your burgeoning neck pimple. Similarly, a breakout could be the result of an allergy to a detergent. Reach for those marketed for sensitive skin, free from dyes and fragrance, and avoid fabric softeners, which contain a lot of additives that could also cause zits. Other things that come into contact with your neck—sheets, pillowcases, even cellphones—should be cleaned frequently, as well, as they tend to accumulate dirt, oil, and debris. 
Back 
Back zits are a red, bumpy and often painful reminder that bad things happen to good people. 
Part of the advice for dealing with back pimples mirrors that of butt-ne, in that you should opt for breathable fabrics, make friends with benzoyl peroxide and wash everything just a touch more regularly than you typically would. Your shirts, your sheets and your easy, breezy loose-fitting linen. Not only will this help to reduce pore-clogging grime, but your house will smell of freshly laundered cotton and crisp spring air. Mmmm. 
Shower time is key for targeting back pimples. The skin on the back is much thicker than your face, so it's advised that you exfoliate with a combination of both physical and chemical exfoliants (Hint: ZitSticka may be dabbling in this idea... wink wink). Exfoliate at least once a week, but don't overdo it. Being too aggressive can cause irritation and a weakened skin barrier. Keep a big plastic clip in the shower to pin up your hair after putting in conditioner (which is likely jammed with pore-clogging ingredients), so it's kept off your back while you tend to the rest of your shower time chores, like washing and shaving. 
Concerned about hyperpigmentation? That's where the HYPERFADE steps in. Packed full of active ingredients like niacinamide and kojic acid, it reduces darkness left on your back by pimples with the same efficacy as the sun does the night's sky. Woah. The nutrient-dense blend of ingredients is anti-inflammatory, including heavyweights like licorice root and vitamin C.
Chest 
And last, but certainly not least (annoying of the lot), our dear pal, the chest zit. The usual suspects—pores clogging from sweat, friction from your clothing, increased bacteria on your skin, and lack of skincare—can all cause these little motherf*krs to show up when you need them the least. Like with your butt, chest pimples can also be a result of folliculitis, and so after ascertaining what they are, you can get to work assassinating them. Refer to the tips above!
Body acne is a whole other beast of its own... a beast that WE are here to tame. Check out our body breakout besties, BODY DOUBLE: a duo specifically formulated to manage current and future body breakouts. Click here to shop!
Title image: @stellasimona