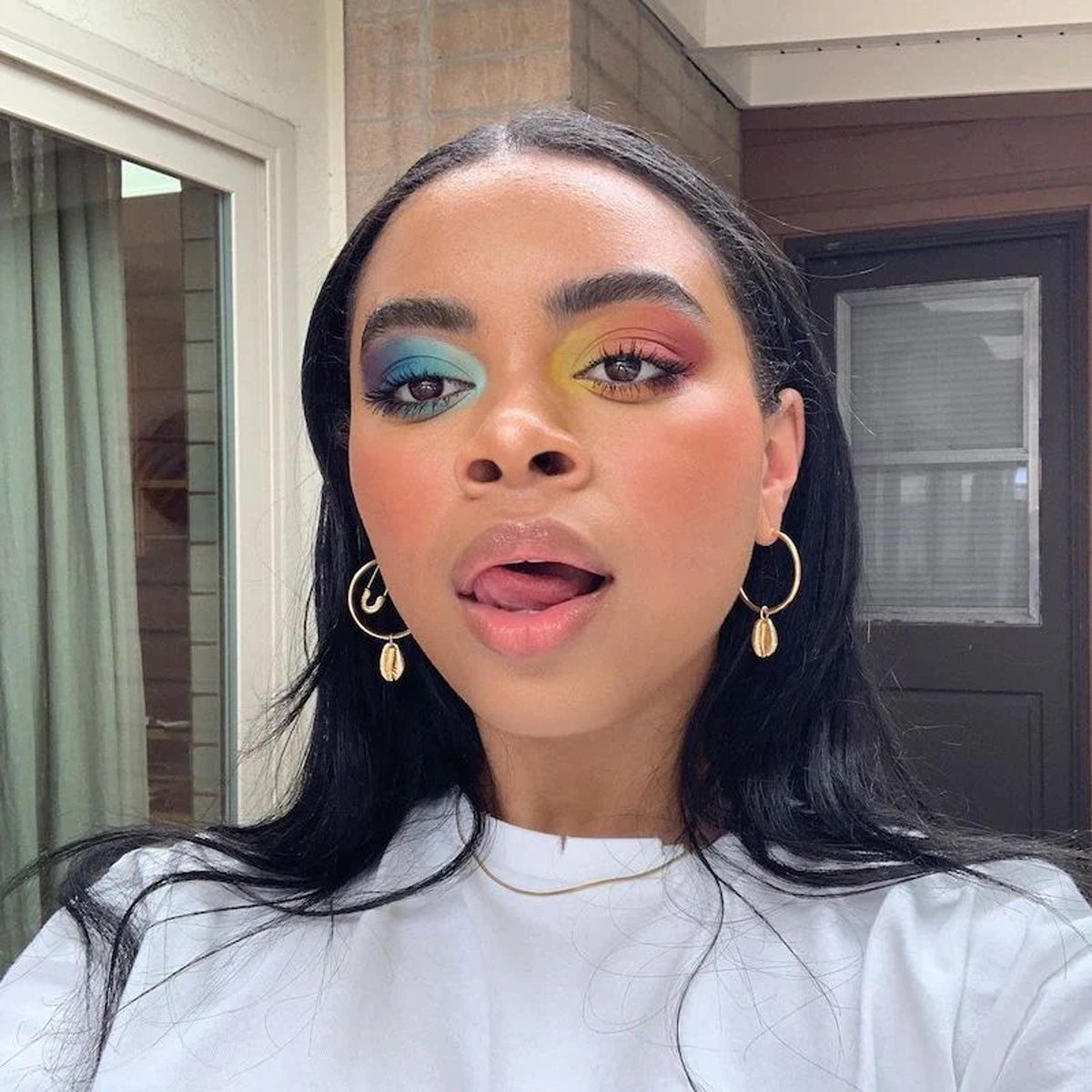 Eye! Makeup! Ideas! Because it's almost New Year's and a mask is covering your mouth
Joy! To! The world! Except we're still! Wearing! Masks! Now that we're in the full swing of the holiday szn and New Year's Eve is almost upon us, a lot of us are also yearning to be in full glam mode for this special occasion. Although half of our faces are still covered with masks to protect those around us (and ourselves), we thought'd we focus on what's left to work with: the eyes! We rounded up some of our favorite influencers' best dramatic eye makeup looks to give you some inspiration for your New Year's glow up. Keep scrolling for some gloriously snatched eye makeup. 
I used an angled brush to draw the outer shape. I started to draw a wing from the outer corner of the eye pointing towards the tail of my brow. As I get up to the line I start blending it into the crease. In this way, I create a sharp crease. I fill in the shape with the exact color. Then, I use the lighter green shade on the rest of the lid and blend it in. I also apply the lighter green color on the lower lash line. Some mascara and we're done!

Having scars for the longest time, I realised I hadn't felt 'sexy' because of how my skin looked. My insecurities got the better of me, so I tried my hardest to talk myself out of the self criticism. Using the James Charles palette, I chose the shades,  Artistry / metallic amethyst purple,  Single / matte orchid purple and  Skip / matte neon pink. Once the shades are packed onto my eyelids for that pigmented look, I bluffed it out for a nice soft blended finish. I also put more baby pink underneath my eyes near my bottom lashes to brighten my eyes. I paired this glam eyeshadow look with 'Amy' lashes by Lashed On Lashes because I love a good natural but wispy style. For the coverage of my hyperpigmentation I used Fenty Beauty Pro Matte Filt'r foundation in shade 290, patting it into my skin rather than gliding it with my compacted foundation brush as this allows for even full coverage. For a more matte finish, I also used Tribe Skincare Mineral Powder in medium and Laura Mercier translucent powder works amazingly for oily skin types. 

I'm a big multi-tasker when I'm out and about so skincare and beauty usually go hand-in-hand for me. Even when wearing my KILLA, I can easily apply makeup over it. For this look, I used Rare Beauty's Magnetic Spirit Eyeshadow Palette and created a gradient effect using three colors: Ablaze in the inner corners, Power in the outer corner, and added Ignite right in the center for a fun little pop. Of course, I had to finish the look with a winged liner. For the most part, I don't like to go all the way in with the liner to make sure that it doesn't overpower the eyeshadow look that I worked so hard on! These days, I don't wear a full makeup routine, so I went in with the CoverFX tinted moisturizer and Ilia Beauty multi stick for blush to top it all off.
First things first; your skincare routine is ESSENTIAL! Not only will it provide you a great glow from within look to your base, but it will help keep your skin hydrated and preventing anything to break up!
I used half a pump of my medium coverage dewy foundation all over my face with a beauty sponge! Then mixed a bit of an eye primer with some of the foundation and lightly stamp that into the eye to prep it for eyeshadow!
Set your eye base with a translucent powder then start working any bronzer into your outer eye crease to make your shadow blend more seamlessly into your skin! Then follow up with your favorite coral eyeshadow and slowly build up the color in the outer lid-space. Using a warm dark brown eyeshadow, lightly stamp and blend this into your lash-line to provide a bit of depth. Next, use your middle finger to stamp any warm colored shimmer into your inner lid and up to your brow bone! Lastly, use any brown eyeliner to intensify that brown shadow you placed on the lash-line and blend lightly!
We will be adding one pump of the same foundation with a brush then stamping it in with your sponge to soften the finish! Next, we are gonna use a cream contour on the outer cheekbones, side of the forehead, and the sides of the nose! Focus on building up the intensity in layered applications instead of all at once! Afterwards, use your favorite concealer where it is needed under the eyes and along the face! Follow a brow soap, mix with a setting spray and comb your brows up! Let them dry and press down to keep the hold. Next, use a cream blush to be stamped from the temples of the face and bring it inwards stopping at the apples of the cheeks! Set the cream blush with a powder blush in the same color and build up the intensity as liked!
Grab your favorite setting spray and lock everything in place! Press the spray in with a beauty sponge to really get that skin finish! For lips, I used my favorite warm nude lip liner and lipstick to get a soft gradient lip combo. Follow along with any clear gloss to finish off the lips!
Cut any wispy lash in half and place on the outer corner of the lash-line and curl with lash curler! Follow up with your favorite mascara and you're done!

For this look, I dabbed some translucent liquid eyeshadow on the eyelids to create a nice, sheer base for the bright wing. I used a liquid eyeliner to paint a thin, sharp wing on top of the eyeshadow, and finished with some pearlescent highlighter on the cheeks and a moisturizing lip balm.

I created this look for pride month. every single color on my eyes came from a different palette, so there was makeup everywhere in my bathroom that day. i wanted the color transition to be super gradient rather than blocky, so i would stand there and blend for about five minutes straight just to get from one shade to the next. and, for me, no eye look is complete without mascara.
Still need some assistance getting rid of those maskne pimples? Check out our convo with one of our favorite licensed estheticians, Lily, for some game-changing maskne tips.