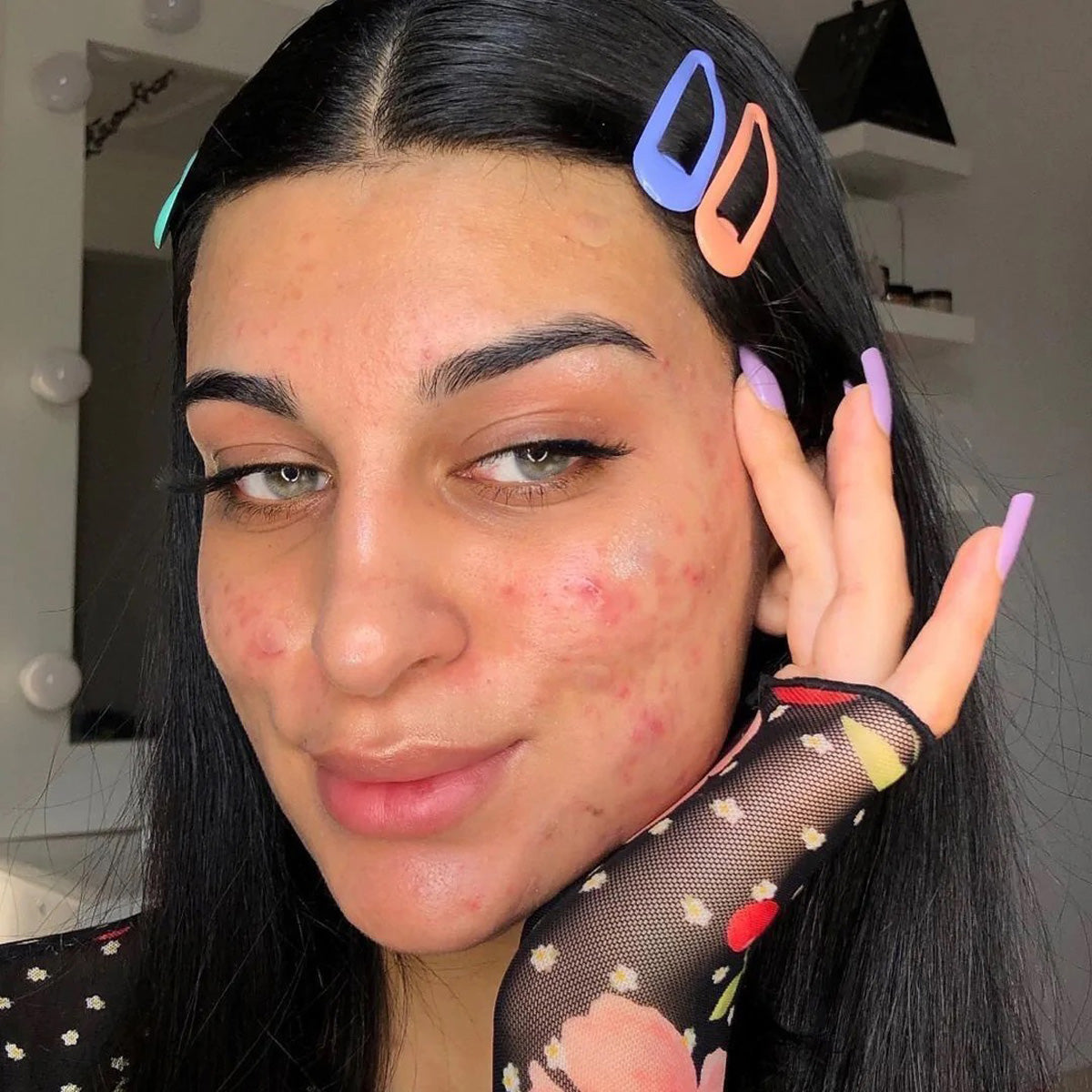 So, Is Double-Cleansing *Safe* For Acne-Prone Skin?
By Madeleine Woon
When I first heard about double cleansing, I was as skeptical about it as conspiracy theorists are science. The call to cleanse twice seemed like a convenient way to sell more products, reminding me of the "Shampoo, Lather, Rinse, Repeat" mandate on drugstore shampoo labels of days past. 

The disbelief started to dissolve the second I decided to try it out for myself, looked in the mirror, and saw a Botticelli angel staring back at me. The skin! So soft! So smooth! So clean! 
The Lowdown
The phenomenon known as double cleansing—which involves the practice of using a cleansing oil alongside a water-based face wash—originated in Japan or Korea, or possibly even further east, in China, as far back as the fourteenth century. 

There's a reason the ancient practice is the center of much hype today. Doubling down on cleansing gets skin properly prepped by removing surface makeup first, then targeting dirt and oil the second time round. The result being a super clean canvas for the active ingredients in follow-up products, like serums and moisturizers, to really work their magic. Don't wear makeup? The DC is still applicable, because of all the dirt and pollution that accumulates on your face during the day—if left to marinate on the skin, can contribute to the breakdown of collagen and development of wrinkles and sun spots. Yikes. DW tho, because it's super easy to incorporate into your everyday routine. 
But, Acne-Prone Skin Should Stay Away From Oils Right?
So, is double cleansing really twice as nice for those prone to pimples? While cleansing your face with an oil might sound counterintuitive for the acne-prone, it's actually one of the most effective ways to cut through all the excess sebum, makeup, and buildup on your face, without stripping your skin. A good oil cleanser is like a tall glass of water for the face, and is something all skin—even the most acne-prone—requires in order to be healthy. 

If (unlike me) you managed to stay awake in your chemistry lessons, you might be familiar with the concept of 'like-attracts-like', which is the basic premise behind why oil-based cleansers are great for removing excess sebum. As explained by M.D., Florida-based board certified dermatologist, Dr. Channing Barnett: "Plant-based oils found in many oil-based cleansers dissolve the natural oils on our skin that have hardened and plugged up our pores. The applied oil will mix with the hardened oils, and can be lifted away when the mixture is wiped with a damp washcloth. This is a great approach if you are prone to acne with pore congestion and blackheads."
So, It's Safe For Acne-Prone Skin To Double Cleanse?
Yassss! Given that you remember that not all oils are created equally. Look for one that's properly formulated for your skin type if you're down to DC. The first thing to look out for are products labelled as 'non-comedogenic' (i.e. products that won't clog your pores). Avoid any cleansers with added scents or dyes, which could irritate the skin, and stay TF away from mineral oil if you are prone to inflammation, blackheads, or whiteheads. 

It's best to incorporate the double cleanse into your PM routine, so that your skin stays nice and hydrated while you catch ZzZzs. And, go gentle, using your fingertips to massage the oil cleanser into the skin and using warm, damp cotton-based washcloths to gently wipe away the oil.