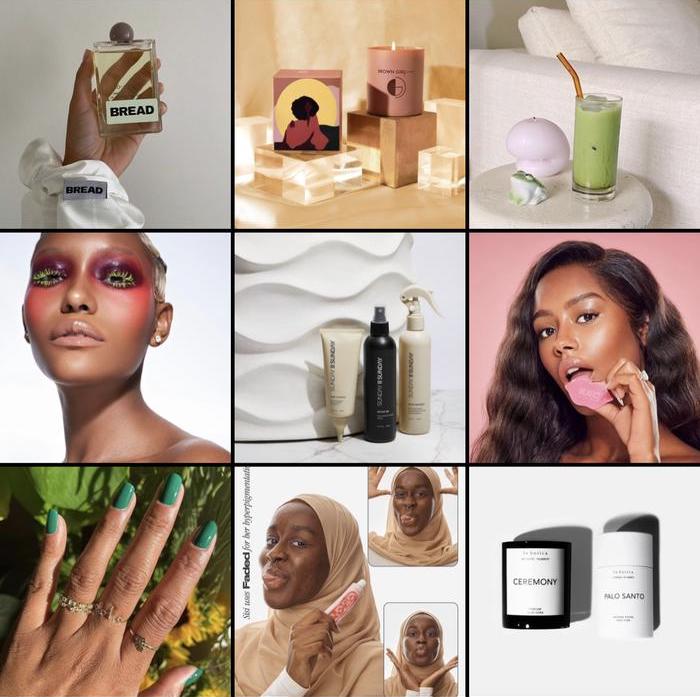 Black-Owned Brands You Should Support Year-Round
The article title speaks for itself. It may be Black History Month right now—a time for us to reflect on the complicated roots of our country and remember the important people and events in the history of the African diaspora—however, we should show up and support Black-owned businesses year round. No exceptions. Keep scrolling for some of our favorite Black-owned brands in the beauty and wellness spaces, and give consider giving them your dollars if you ~feel a connection~ 😇 
Golde was established in 2017 in Brooklyn by our local beauty & wellness guru, Trinity Mouzon Wofford. The brand carries a wide array of 100% natural + vegan-friendly superfood ingredients and skincare such as superfood latte mixes, face masks, and dietary supplements. Their mission? To make health and wellness easy, accessible and fun. Shop Golde Here.
The Honey Pot is the first complete feminine care system that cleanses, protects, and balances your vagina. The founder and CEO, Beatrice Dixon, created a range of products including washes, feminine wipes, organic pads and tampons, + much more. All of their products are free of chemicals, toxins, artificial fragrances, and anything synthetic. Shop The Honey Pot here. 


Co-Founder of i + i Botanicals, Selam Kelati, grew up in Ethopia, where herbs and plants were a part of everyday life growing up. She used what she learned from using natural plants and herbs in her youth to develop skincare products that are good for the mind, body, and soul. i + i Botanicals' goodies include a face serum, a body scrub, a dry oil body mist, and more. Shop i + i Botanicals here. 
The Cristalline, created by Rashia Bell, is a multi-faceted lifestyle service to help creative a space of balanced energy through interior design, skincare tools, crystal healing, jewelry, and more. Shop The Cristalline here. 
Founder Maeva Heim of Bread Beauty Supply started the company to create a luxurious haircare line that promotes transitioning away from chemical relaxers to embrace natural, beautiful, and authentic curls. The brand sells washes, a hair mask, hair oil, and some extremely aesthetically pleasing merch. Shop Bread Beauty Supply. 

Creator of Peak and Valley, Nadine Joseph, was on a personal mission to curb her chronic stress, fatigue and skin issues. She did this by starting her own brand of several high potency and high purity adaptogens to target all of these issues she was dealing with in her everyday life. Peak and Valley currently offers four adaptogens that focus on stress, brain function, healthy skin, and restorative sleep. Shop Peak and Valley. 
With a background in public health and integrative medicine, Breighl Robbins created her beautiful brand, Ebi (meaning "family" in Yoruba), to provide a line of wellness essentials specifically made for postpartum mamas. Ebi offers wellness goodies like oils, teas, bath herbs, + more. Shop Ebi. 
BROWN GIRL Jane is a beauty and plant-based wellness brand that focuses on the needs of women of color. The founding sisters, Malaika & Nia Jones, plus beauty and wellness guru, Tai Beauchamp, lined up the brand to offer skincare products, candles, wellness oils (like CBD), + a number of other wellness must-haves. Shop BROWN GIRL Jane. 
Creative Director + Founder of La Boticá, Dawn Marie West, wanted to create an elevated fragrance experience that incorporated her experience in art design with her Black and Afro-Dominican cultures. Shop La Boticá.
Founder of Klur, Lesley Thornton, used her background as an esthetician and formulator to cultivate skincare that is clean, ethical, and inclusive. The Klur line includes beautifully minimal serums, cleansers, exfoliators, etc. Shop Klur. 
Coloured Raine was founded in 2013 to spread awareness of beauty diverseness and to empower and welcome all skin tones and shade through a unified line of stunning cosmetic products. Founder Loraine R. Dowdy took inspiration from her Caribbean roots to create a wide array of vibrantly colored makeup merchandise. Shop Coloured Raine.

Another incredible makeup brand started by self-taught makeup artist, Danessa Myricks, incorporates multi-functional beauty products that work in multiple areas on every single face. Shop Danessa Myricks Beauty.
Sunday || Sunday is a genius beauty brand that carries haircare products for post-workout hair. Founder Keenan Beasley formulated all of the products to incorporate botanical ingredients that remove sweat, balance hydration and moisture, and maintain the overall health of the hair and scalp. Shop Sunday || Sunday. 
Fashion icon and beauty enthusiast, Kristen Noel Crawley, was on a trip (🥺) in Tokyo when she came across a wall of gorgeous hydrating lip masks, and immediately was inspired. She then went on to create her own line of hydrating lip masks, face masks, and eye patches that make up the ultimate self-care kit. Shop KNC Beauty. 
Co-Founders Olamide Olowe and Claudia Teng launch skincare brand, Topicals, to change the conversation about chronic skin issues while also setting the example for inclusivity and diversity in the beauty sphere. Their products include a brightening gel, a hydrating mask for breakout-prone skin, and some adorable merch. Shop Topicals. 
With a lack of nail polish brands depicting people of different colors/skin tones to sell this beauty product, founder Jacqueline Carrington created her own brand whose slogan is "nail polish for People of Color and those who live in color". Basically is a vibrant nail polish brand that focuses on making everyone feel welcomed and included in the beauty community. Shop People of Color. 
Founder
Neumi Anekhe
founded Oma The Label to focus on challenging homogenous industry standards while simultaneously creating unique and exquisite jewelry for the everyday woman. Her products range from earrings and necklaces, to bodysuits and bracelets. The brand has it all, and everything Oma offers will have anyone who sets eyes on her pieces asking, "I love that. Where did you get it?"
Shop Oma The Label
. 
Not sure if you heard, but ceramic home goods are IN and probably always will be. A few years ago, creative genius 
Melissa J. Chin
 began making homemade ceramics as a hobby, but quickly transformed it into a stunning business called Grey Remedy Ceramics. She sells everything from mugs, to salt spoons, to incense burners. Melissa's beautiful creations tend to sell out quickly, so you might want to throw her a follow to stay up to date on her ceramic drops!
Shop

Grey Remedy Ceramics
. 
Click here to read up on one woman of color's Dark Skin Journey with Hyperpigmentation & Dark Spots.