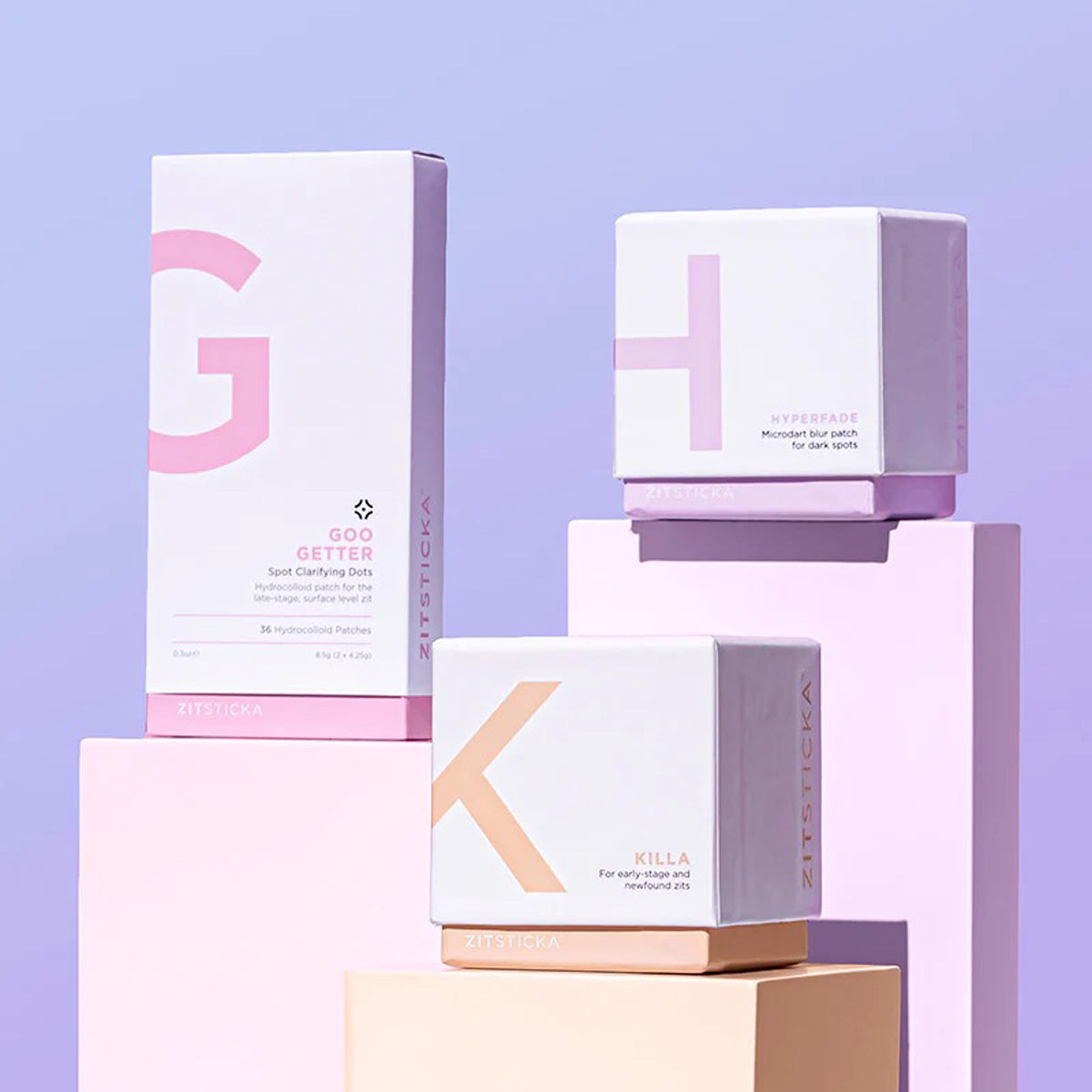 3 Dewy Influencers' Nighttime Skincare Routines
They're dewy! They're glowy! They've tried (practically) every product in the sprawling skincare ecosystem! Soooo, we had some of influencer pals disclose the inner-workings of their nighttime routines—come for the cute selfies, stay for the deep wisdom...
1. ZitSticka PRESS REFRESH—Using this exfoliating mask once a week leaves my skin looking noticeably healthier after 20 minutes. It's soaked with skincare acids that help decongest my pores more effectively than any mask I've ever used.
2. Skin Perfecting. 2% BHA Gel Exfoliant—I firmly believe skincare acids BHA keep my pores clear and prevents the appearance of fine lines. I use a gel version of this leave-on exfoliant (rather than the liquid) because I can easily apply it with my hands.

3. RoC Retinol Correxion Eye Cream—This is a drugstore retinol eye cream that costs less than $20 and lasts me about 6 months! Using a retinol around the eyes keeps them looking bright. Plus my eye area is very expressive, so I started working to prevent "crow's feet" as early as possible.

4. Glow Recipe Watermelon Glow Niacinamide Dew Drops—Using a niacinamide serum keeps my skin looking glassy, plump, and hydrated. I love that it provides oil-free hydration that balances out my exfoliating products.

5. Fenty Skin Hydra-vizor Invisible Moisturizer SPF 30—I wear SPF every. Single. Day. I know it's the number one thing I can do to prevent signs of skin aging and disease. I love when SPF moisturizers that give me oil free moisture as well as protection.

6. ZitSticka SKIN DISCIPLINE—I've been taking SD for over a year now! It's been incredible to see how my skin has improved over time. I love knowing that I am working to keep my gut healthy with probiotics, plus lots of other skin ingredients like omega-3s and zinc!
1.  Farmacy Green Clean cleansing balm— I always double cleanse in the evenings, especially as I am often wearing layers of SPF through out the day. My favorite oil cleanser at the moment is the Farmacy Green Clean cleansing balm. It removes all my SPF, makeup and general grime from the day like a dreeeeam (plus it has a citrus lime scent so a double win).
2. Dr. Althea Amimo Acid Gentle Bubble Cleanser— I follow up my double cleansing routine with a foam cleanser, my go to being the Dr. Althea Amimo Acid Gentle Bubble Cleanser. This cleanser is packed with 17 different amino acids, so it's great for my sensitive skin and doesn't strip my skin or leave it feeling tight.
3. Mugwort's Essence— I have been obsessed with this essence, this is one of my holy grail products and I think i've gone through 3-4 bottles now. It's a gorgeous watery texture that soaks into the skin like a dream, it contains 100% mugwort leaf extract and feels so refreshing on the skin.This is a great ingredient for those with sensitive or irritated skin!
4. Abib Yuja Sheet Mask— Now we're back into another lockdown in the UK, I've been taking my time in the evenings to give myself a little pamper, so when i'm feeling extra bougie I pop a candle on and get a sheet mask out of my skincare fridge. One of my go to's is the Abib Yuja Sheet Mask, it adheres to the skin really well even with my facial hair and I wake up with a serious glow the next morning.
5. To seal that all in, I use my Rovectin Clean Lotus Water Cream— Packed with 75% Lotus Water, lotus is an ingredient known for purifying the skin and absorbing toxins out of the skin as well as its hydrating properties. This is a really nice hydrating cream without feeling heavy on the skin.
1. Youth to the People— Superfood Cleanser
2. Cocokind— Rosewater Toner
3. Dear, Klairs— Freshly Juiced Vitamin Drop
4. CeraVe— Eye Repair Cream

5. CeraVe—Moisturizing Cream and The Ordinary's Hyaluronic Acid 2% + B5 serum, combined!

6. Krave Beauty— The Beet Shield
I like to use these products because I am aiming for healthy and glowy skin! These products help me achieve a better complexion and reduce my hyperpigmentation. My skin is not perfect. Of course, I do get a few breakouts every now and then. That's when I like to use my ZitSticka pimple patches, specifically
GOO GETTER
, to help reduce its size.